Feature documentation
Who are you, and what is Ditto?
Take a look at the About page for an overview of the what and the why of Ditto
Ditto is a tool for copying Asana projects between workspaces. It is developed by Mike Houston, a software developer in the UK.
Which account should I use with Ditto
The account you log in with must have project creation permissions in the target workspace, organisation or team. This could be a full team member, or a team or project-level guest account.
Guest users do not have permission to create custom fields, so if you are transferring these the destination user must have full access.
The most common way to use Ditto is to add a user with full access to the destination as a guest to the source workspace, which will allow Ditto to successfully process transfers.
You may need to fully log out of Asana and Ditto before logging back in to the correct account if you have previously authorised access for Ditto to the source workspace.
Are there any details of projects or tasks that Ditto can't copy?
There's a table of supported features
Some features of the Asana web app are not available through the API, and can't be copied. Currently the most obviously missing feature is recurring tasks.
How can I close my Ditto account?
Ditto doesn't keep much information around after you've used it, and doesn't keep a copy of your credentials for accessing Asana after queued transfers are complete.
To ensure that there is no possible way for Ditto to access your account in future, you can deauthorize Ditto by going to 'My Profile Settings' in Asana, and removing Ditto on the 'Apps' tab.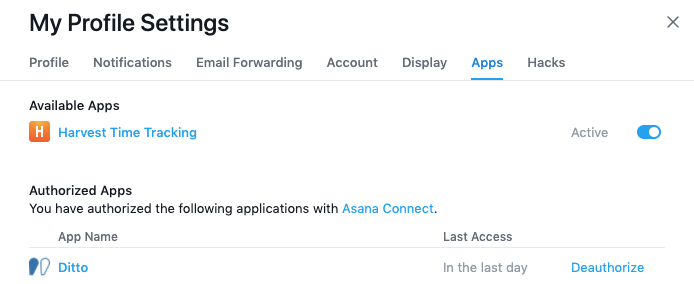 If you have created a Pro account and wish to remove it, please email [email protected] with your Asana account ID, which can be found on the account page
Which data do you collect?
Take a look at the privacy policy for full details
Ditto communicates with Asana's service via the API. It only reads data in direct response to user interaction or as a result of a user's approval for ongoing access. Only data required for the operation of the service is requested.
Data retrieved from the API includes, but is not limited to, lists of projects, users, tasks, comments and attachments.
Do you store any data?
Take a look at the privacy policy for full details
Local storage
Ditto stores a single cookie 'ditto' containing the encrypted state of your user session. This information is required for the service to operate, and stores your authorization credentials for the Asana API.
You can revoke Ditto's access at any time from the Asana settings for your account.
Data stored on servers
During a transfer operation, the user's authorization credentials for the Asana API are stored on our servers. They are removed when the job completes or has failed, and expire from the service after 24 hours in case of any other error preventing their immediate removal.
Data collected for the operation of the service is automatically cleared after 36 hours. It may be manually removed from the web interface at any time by the user.
Logs of transfer operations are retained for debugging purposes for 30 days, after which they are automatically cleared. The logs do not contain personally identifiable information, but do record the IDs of some records being copied.
Anonymized (hashed) IDs are retained to track usage of the service.
Do you share any data with third parties?
Take a look at the privacy policy for full details
No data you give us or that is collected from your authorized Asana account is ever shared with third parties, except when it is sent back to Asana.
Data collected from Asana is stored temporarily on our servers, which are provided by Amazon Web Services in the us-east-1 region (North Virginia, USA).